Roger Stanyard
(See the index of past and present committee members, here).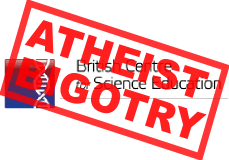 Roger Stanyard is the founder, spokesman, and de facto leader of the "British Centre for Science Education". He is neither a scientist nor an educator; his whole life has been spent in management consultancy. Why, then, is he seeking to con the public into believing that he is a legitimate spokesman on behalf of scientists and educators? What is driving him to it? The answer is not difficult to find out, and is documented below; there are also articles documenting some of the obvious falsehoods that Mr. Stanyard has told in the course of his campaigning.
Roger Stanyard, BCSE Leader
Anti-Christian Bigotry
(Note that Stanyard defines the word "fundamentalist" to mean anyone who believes that God has revealed himself, particularly in any religious book):
Roger Stanyard's Departure And Return
In mid-2007, the BCSE's founder and de-facto leader fell out with his colleagues, and left. A fortnight later, they made up and he was back. I discovered this and started blogging about it - but without disclosing my proof to begin with. The BCSE responded with the most outrageous campaign of smears and lies, believing that I didn't have any evidence. This decision turned out to be a disaster when I produced the evidence - showing the moral vacuum that went to the BCSE's core, as a majority of the BCSE's leadership was shown either to have spread slanders they knew to be false, or to have made no protest when the proposal to do so was made.
More Forked Tongues: