The BCSE And Religious Neutrality
The BCSE, on its website, tries to take pains to tell you that it has no religious bias or agenda - that it takes an entirely neutral position on religious matters.
It did not take much research, though, to discover that this was an obvious case of "surely he doth protest too much". The BCSE is founded and run by dogmatic anti-theists and anti-supernaturalists, who are steeped in anti-religious metaphysics at every point of their thinking.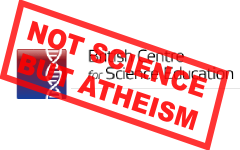 Below are some articles which document the BCSE's real thoughts about alternatives to atheism, and hence expose the BCSE's gross and culpable dishonesty in trying to present itself as "religiously neutral" - which is of course a concept which is only meaningful in a secularist way of thinking to begin with.
See Also: