Lying to
MPs

- Something Suspicious Going On

(This story was originally published on the 16th of October 2006).
Others Have Noticed...
Before I could write any more on the "British Centre for Science Education", someone else has beaten me to it.
Background
The "BCSE" have been campaigning in the last few weeks against the work of an organisation called "Truth in Science". Truth in Science have recently launched a website, and sent out materials to schools, highlighting scientific problems with Darwinism, and providing suggestions and resources for teachers to help teachers approach the subject in an intelligent way in their own lessons, according to the National Curriculum.
BCSE Response
In response, the "BCSE" have been writing to national newspapers (http://www.timesonline.co.uk/article/0,,59-2385220.html) and lobbying MPs (http://community.bcseweb.org.uk/viewtopic.php?t=56), asking them to denounce Truth in Science's material as full of scientific errors. In this they appear to have had some success - persuading the Times to print a letter, and persuading Graham Stringer MP to file an "Early Day Motion" in the House of Commons on their behalf, which at least eight other MPs have signed (Early Day Motion number 2708 - http://edmi.parliament.uk/EDMi/EDMDetails.aspx?EDMID=31313).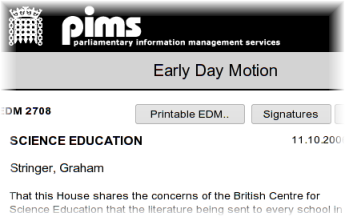 A Slight Problem...
But as you'll see from Truth in Science's blog (http://www.truthinscience.org.uk/site/content/view/198/63/), there's a slight problem. The BCSE don't know what's in the material that they're denouncing. They have nothing to say about what errors they have found in the material sent to schools. Neither on their public website, nor in their discussion group, will you find any significant mention of anything found in the posted material. But it is not only this silence that speaks loudly. In fact, their website states quite plainly that they don't know what they're denouncing. On their "Truth in Science" page, they state the following (as at 14th October 2006)
The Material Distributed to Heads of Science Departments
At this stage we have not reviewed the resource material sent to heads of science departments. The initial feedback is that the material has been professionally put together and, in terms of presentation, is of high quality.

http://www.bcseweb.org.uk/index.php/Main/TruthInScience

When did the BCSE last update this page? On 13th October 2006 - 10 days after the "BCSE" wrote to the Times, and 2 days after Graham Stringer filed the early day motion mentioning the "BCSE" in response to their material. A later change on the 15th of October was made, but this paragraph was not changed then either.

Have they even seen it?
You will notice that the above note from the "BCSE" is very vaguely worded. It leaves open the possibility that not only have they not reviewed the material which they are so sure is erroneous, but that they have not even seen it. All they appear to know about the material has been received by way of "feedback" - not personal inspection. All they know is that it is "professionally put together" and "high quality" in "presentation" - nothing to say about its contents.
So, what kind of "science education" group is the BCSE? What kind of an approach to science is it to condemn materials without even having a basic knowledge of what they contain? What kind of lobbying group is it that contacts MPs about it-knows-not-what? Are you encouraged about their credibility?
Check out what Truth in Science have to say about it on their own blog here: http://www.truthinscience.org.uk/site/content/view/198/63/