Alan Bellis
Alan Bellis was one of the founding members of the BCSE, having been a founder member of the "BlackShadow" Yahoo atheist campaigning discussion group that it was born out of. Bellis was also instrumental in setting up the first BCSE website, which was originally hosted on a domain name he purchased, www.blackshadow.me.uk. As with the BCSE leadership in general:
Bellis had no qualifications or standing or experience in science education at all, let alone to lobby the government in the guise of a national expert - rather, he is a businessman.
Bellis is a campaigning atheist for whom, like many other campaigning atheists, a main plank of his case is to attack Christianity.
Whilst Bellis campaigns under the BCSE flag under the pretence that they have no religious motivation, the reality is very different - what else can we conclude when they have no qualifications, and say words like these? ""Atheism is not a philosophy; it is not even a view of the world; it is simply a refusal to deny the obvious." (See here)
More Information
The story attached to the two images below, from Bellis' website, is here.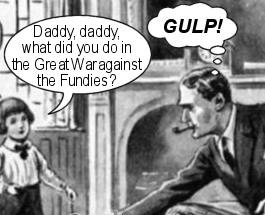 Whereas the BCSE website claims that its motivations are not political or religious, in the BCSE's own pre-launch discussions Bellis endorsed these words: "It is a political fight. The fundies want a theocracy, and are trying very hard to get it. So this is a fight between "everyone who wants a fundamentalist theocracy" and "everyone who doesn't." (See here and here).